#1 Ridgeback in Canada
2011, 2012 and 2013* (10/30 all systems)

Best In Show
Multiple Reserve Best In Show
2013 National Best In Specialty Show
2012 RRCC Best In Specialty Show
BPISS (all hound)
American Grand Champion & Canadian Grand Champion Excellent
Coso's Adonis of Argos, CGN
Dante

| | | |
| --- | --- | --- |
| | | |
| | | |
| 2013 Best In National Specialty Show - Breeder Judge Stewart Dankner | | |
| | |
| --- | --- |
| | |
| Best In Show - Johan Juslin, Finland - Oct 2013 | Best In Specialty Show - Oscar , Argentina - apr 2012 |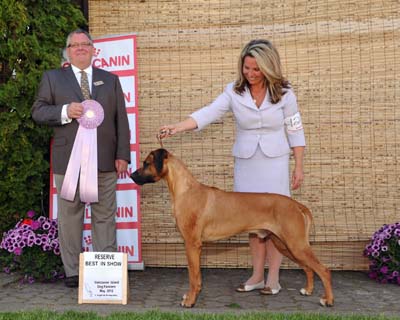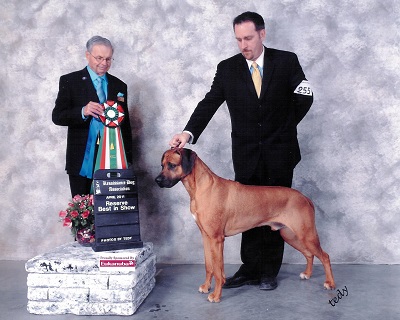 Reserve Best In Show - Grant Townsend May 2012 Reserve Best In Show John B Ross April 2011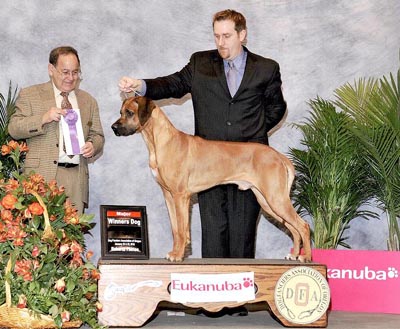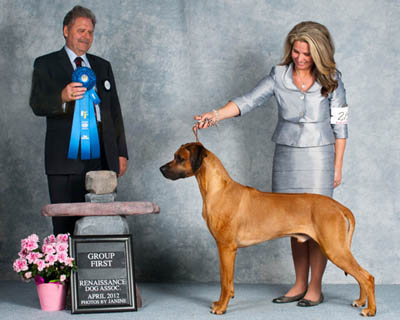 Dante - American Champion - finished with Lance in 4 weekends with 4 majors! Group 1st - Christopher Neilsen - Apr 2012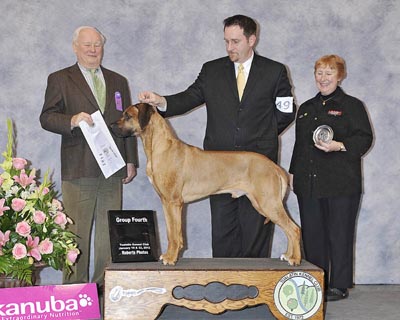 Jan 2012 - Judge Kent Delaney - Portland Oregon
In October 2011 Dante went to Canada's Largest Show and came home the #1 Ridgeback in Canada - and #13 hound. Dante faired quite favourably with the International Judging Panel (Sweden, Russia, Austaralia) Taking Best in Breed, Group 2 and two Group 3's! A huge accomplishment with 30 Ridgebacks entered and 7 of the 10 top Canadian hounds there. Dante ended up #1 but was only shown in 7 months of the year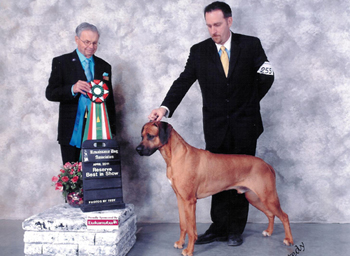 Dante - Apr 08 2011 Reserve Best In Show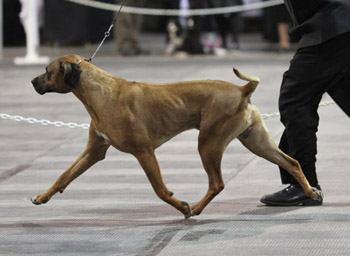 Balanced Movement - Strong Reach and Drive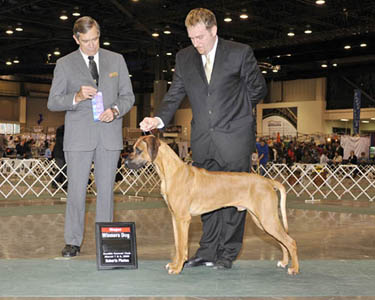 First US Win!
127th Seattle Kennel Club Show
Dante: Mar 09
Winners Dog from the 9-12 mth class (Major Win)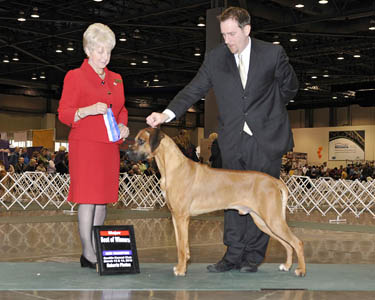 Last US Win
129th Seattle Kennel Club Show
Dante: Mar 10
Winners Dog, Best Of Winners from the Open class
(4 pt Major Win)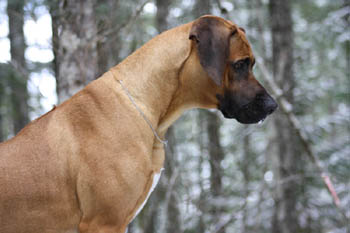 Stunning Dante lives with his family Fraser, Darlene, Mama Sweet P and the cats! He is developing incredibly well - perfect bone, angles and a head piece to die for. While masculine and handsome Dante retains a soft side to him. One of his best traits is his sweetness, how could he not be coming from his Dam "Sweet" P and doubly so with a sire like Argos, who notably stands out for his good nature.

Dante's show debut was at 7 months old, and he never looked back. He finished his Championship un-defeated in the open class (from the 6-9mth class) in 5 straight days, going Winners dog, Best of winners, along with best puppy in breed, best puppy in group and Best Puppy in an all hound Specialty Show!! Quite an accomplishment as the last two days were at Canada's Largest Dog Show- a dream of a start!

Dante's completed his US Championship in a similar fashion. With Lance, they went down a total of 4 weekends, he was awarded Winners Dog (some BOW) for 4 majors in 4 weekends!
Dante and father Argos have now also entered the Brace Competition. This Brace is undefeated in Ridgebacks including both the Us and Canadian Naionals. To there credit, they also have multiple Best in all breed show Brace as well:
2009 - RRCC - Best Brace in Canadian National Specialty
2009 - ASHA - Best Brace in Hound Specialty
2009 - RRCBC - Best Brace in Regional Specialty
2010 - RRCC - Best Brace in American National Specialty

I assure you he's not done yet, check back for updates...........




Dante- WD, BOW, BPIB and BPISS (7 mths)
Judge- Dany Canino (USA)











Dante: Best Puppy in Hound Group

Judge: Phillip Kersey (New Zealand)