Multiple Best In Show, Multiple Best In Specialty Show(all hound)
Multiple Best Puppy In Show,
American Grand Champion & Canadian Grand Champion Excellent
HPK Tropaco Troyan Argos of Coso,
RN, HIC, Therapy Dog, CGN, VDX AOM Am CGC, JC:

Argos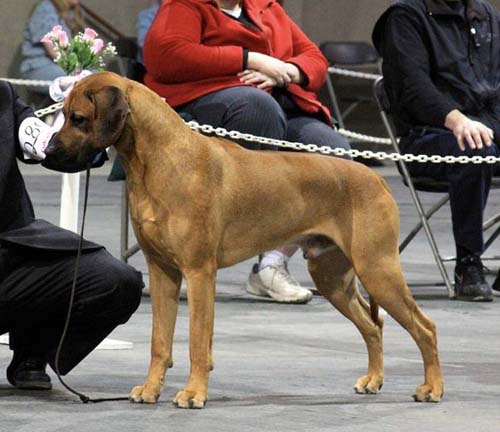 #1 Dog in Canada 2010
(now retired from active showing - only shown in 6 shows)
#1 Ridgeback in 2009, 2008 & 2007, #2 Ridgeback in 2006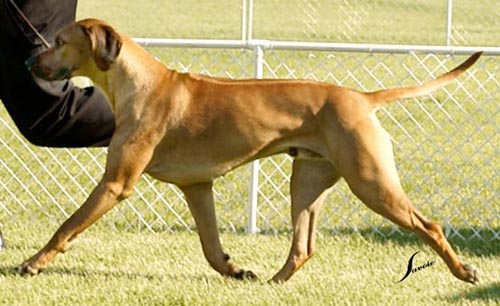 | | | |
| --- | --- | --- |
| Date of Birth: | | October 2, 2005 |
| Sire: | | Am Ch Jubalees Lonestar Over Kei River, JC |
| Dam: | | Am Ch Tropaco Ecco Domani of HPK, JC |
| Breeder: | | Helen and David Hayek |
| OFA Hips: | | Good - RR-8854G24M-PI |
| OFA Elbows: | | Normal - RR-EL3323M24-PI |
| Thyroid (Full Panel): | | Normal - RR-TH1289/24M-PI |
| CERF: | | Clear RR-1451 |
| OFA Cardiac: | | Normal RR-CA1031/32M/C-PI |
| Degenerative Myelopathy | | Normal - RR-DM471/39M-PI |
| STUDBOOK: | | CLOSED |









In December 2005 after much searching for the right addition Argos came to Canada!


Argos certainly livened things up, hitting the show world running with major wins, right from the first day. At six months and one week old, at his very first show, Argos was awarded Best of Breed under a large entry which included several Can and US Champions. Little did we know this his was just the beginning! In August, as a 10 mth old Argos earned his first Best Puppy in Show, and his second in September, which was just a glimmer of things to come. Argos ended up finishing 2006 with Breed wins and Group Placements at Canada's Largest Show which brought him to the 2006 #2 RIDGEBACK in CANADA! Amazing!! And a surprise because he showed for only half the year and for that he was as a Puppy!


In 2007 Argos became the #1 Ridgeback in Canada! With fairly limited showing Argos has already been awarded Multiple Hound Group Wins, an all breed Best In Show, as well as an All Hound Best In Specialty Show! 2008 found Argos #1 again accumulating more all breed Best In Shows and making him the top point Ridgeback in the Canadian Kennel Club Data Base. In 2009 he was show more sparingly but he acquired another Best In Show and finished the year #1 again. For 2010 Argos was shown very selectively and after taking 5 months off in Canada, Argos and Lance returned and in one weekend jumped to the #1 position again for the majority of the year. Even though he was only shown 6 weekends, he still ended up the #1 Dog for 2010



Argos and Lance faired well south of the border and in only 4 shows completed his American Championship with 4 majors and 17 points, with a Breed win over Specials, and a Hound Group 3! He also completed his American Junior Courser Title in just 2 runs! Argos is now a multi group placer in the States and in 2009 with very little showing, Argos finished as a US Top 20 Dog!


Coso Rhodesians is very thankful to his breeders, the Hayeks from HPK Tropaco Kennels, for entrusting us with this very special boy. Argos and Lance made history in Canada by becoming the top winning Ridgeback in the CKC database but we are excited what the future will bring us. With his correct size, balanced structure and breed desired bone and substance, with limited breedings, he has already left his mark and is passing on exceptional quality! Look for his fabulous offspring at select shows in the US and Canada.




Rhodesian Ridgeback Club of the US - 4th in Vets 7-9
Farmington, Utah Sept 2014
Rhodesian Ridgeback Club of the US - 1st Place Stud Dog Class
Farmington Utah, Sept 2014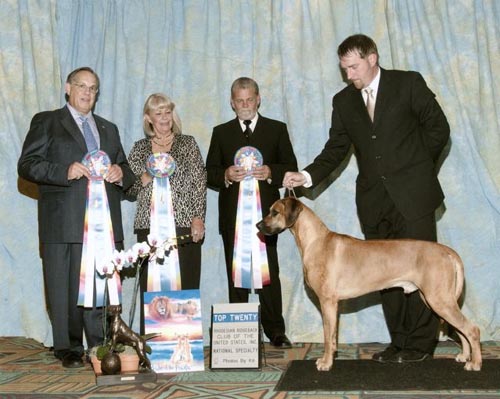 Judges John Wade, Kerry Williams & Don Rogers
Rhodesian Ridgeback Club of the US - Top 20 Event
Ventura, California Sept 2010
Rhodesian Ridgeback Club of the US - Best Brace in Specialty
Ventura, California Sept 2010
In

Best In Show - Judge Mr Edgar Bajona, Canada

Breed and Group - Judge Brenton Wright, Canada
June 14, 2009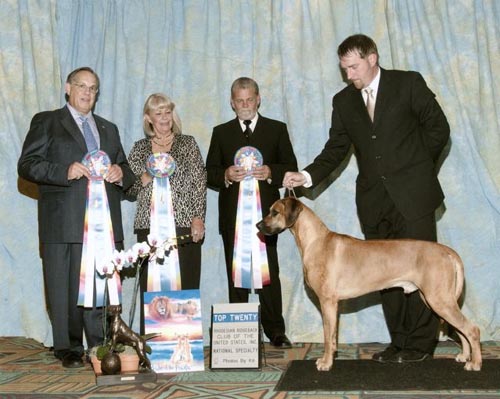 Judges John Wade, Kerry Williams & Don Rogers
Rhodesian Ridgeback Club of the US - Top 20 Event
Ventura, California Sept 2010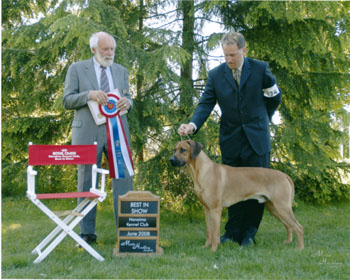 Best In Show - Judge Mr Thomas Touzel, Canada

Breed and Group - Judge Dr Michael Woods, Canada
June 16, 2008
| | | |
| --- | --- | --- |
| | | |
| Breed & Group 1: Aaron Andriash (handler) | | Best In Show: Rowan Norris-Jones (handler) |
Another Best In Show - Judge Mr Adriane Aguirre, Mexico








126th Seattle Kennel Club Show

Argos takes Breed and a Group 3. Group entry of 206



Group 1

Judge Mr David Markus, Canada












1st Hound Specialty 2008

Argos : April 13,2008

Best of Breed at all Shows

Group 2: Judge Betty Stites, Tx, USA


Group 3: Judge Paula Hartinger, Ohio, USA


Group 4: Judge Dr Nelson De Sota, Dominican Republic












Best In Show

Argos (20 mths): Jun 15,2007

Best In Show Judge: Margaret Jones (Can)

Breed and Group Judge Bonnie Derry (Can)











Movement

Argos

Correct, not overdone, perfectly balanced reach and drive, level topline. Completely effortless.










Canada's Largest Show

With the top 3 Canadian Ridgebacks Competing !

Argos (24 mths): Oct 2007

BOB, Group 1,
Best In Specialty Show
Judge Raymond Simoes, Brazil

BOB & Group 3 : Judge E Sangunakup , Thailand

BOB & Group 4 : Judge Sergio Pizzorno, Uruguay










Free-stack!

Argos

His correct structure is proven by the natural placement of his feet










Group 1st

Argos (22 mths): August ,2007

Breed and Group Judge Glenda Cook (Australia)










The Team

Co-Owner, Handler Lance with his boys !

Noah and Argos










Group 1st

Argos (22 mths): August,2007

Breed and Group Judge John Rice (Australia)

Group 1st

Argos (19 mths): August,2007

Breed and Group Judge Christina Rafton (Australia)










Best Puppy In Show

Argos (10 mths): Aug 11,2006

Best In Show Judge: Cheryl Myers-Eggerton (Can)

Breed and Group Judge Joey Lim (Australia)



Argos,

Romping in the fields












Argos (7mths): May 2006 Farmington, Utah, USA. RRCUS Nationals

4th Place, 6-9mth dog under breeder judge Frank DePaulo