Canada's 2005, #1 Female Ridgeback
Champion Coso's Utopia of Parnassus, ROM:
Utopia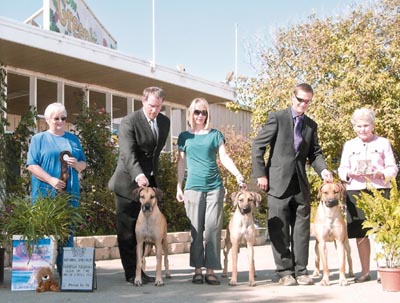 Rhodesian Ridgeback Club of the US - 2nd in Brood Bitch (entry of 20)
Ventura, California Sept 2010
She also won the Canadian National Brood Bitch Class
Rhodesian Ridgeback Club of Canada - 1st in Brood Bitch
Winnepeg, Manitoba August 2009
Enjoying the beaches in Oregon on the way back from the US Nationals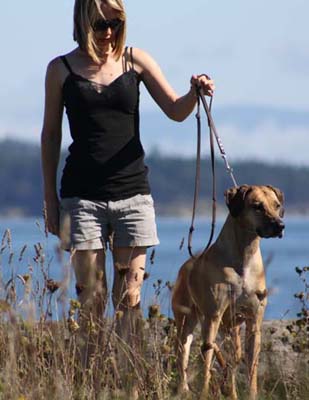 Utopia came to us from Dr. Robert Russell of Parnassus Ridgebacks U.S. After many months of searching for the right addition we finally found her. Her is Sire MBIS Ch Kwetu Mahubah's Fair Play and one of our favourite RRs. Her mother is Ch. Penelope's Echo of Parnassus, a gorgeous livernose and daughter of the exquisite Ch. Penelope II.

Inheriting the genes of beauty Uto is a show stopper with her magnificent movement, great front, rear and everything in between! This is a nicely balanced light wheaten ridgeback, one powerful girl and a promising youngster who just keeps getting more lovely every day. It has often been said Fair Play's kids are all born with springs on their feet and this is certainly the case with our Uto. She has inherited the 'sproing' from her sire and we love that playfulness about her. She is also exceptionally devoted to us.

Uto's presence in the show ring has been unmatched by any. In her very first show weekend at just six months old Uto went Best Puppy, WB, BOW, Best of Breed, Group 3 and won the Puppy Hound Group under Judge Paula Hartinger - an impressive win. Still a puppy, at 12 months, Uto obtained her Championship under Judge Weng Woh Chan of Malaysia, who has judged RR's on many continents. At 17 mths, Utopia went to the Aristocrat Hound Specialty and went BOSS making that 3 BOS out of the 4 days, and won the 12-18 mth bitch sweeps. Utopia was the Top Female Ridgeback in Canada, 2005, and the only bitch to make the top 10. This was accomplished with fairly limited showing and competing head to head with 2 of the top male RR's in Canada. Not bad for a one year old. Being a light wheaten RR in what can sometimes be a 'red boys world' didn't stop her and numerous judges just couldn't deny her. We have lost track of how many BOB's and Group placings she has earned but from her group placing at her very first show to the group placing in the last show she was in proves an undeniable consistency and we are blessed to have this girl.

Utopia has only been out to limited shows in 2006, mainly the US Nationals (3rd in US Bred), and for prestigious judging assignments like Anne Rogers Clark (BOB and Group 3rd). We will now anxiously await Utopia's first litter, then off to States for her US Championship!

May 1st 2006 RRCUS Nationals

Farmington, Utah, USA

Effortless, perfectly balanced movement

May 1st 2006 RRCUS Nationals

Farmington, Utah, USA

3rd Place US Bred Bitch

Breeder Judge: Frank DePaulo

Best of Breed, Third in Group
VIDFA - Victoria, BC, Canada
May 2006 - Judge: Ann Rogers Clark

Best of Opposite Sex &
12-18 mth Bitch Sweepstakes winner
Aristocrat Hound Specialty Mar 2005
Chilliwack, BC, Canada
Judge: Mrs. Ellen Kroll, California

New Champion
Best of Breed - November 2004
Cloverdale, BC Canada
Judge Weng Woh Chan of Malaysia